If you have an Off Campus or On Campus eSchool Placeholder on your schedule, you will need to go to the Pasco eSchool website for the instructions on what to do, or read them below.
How to Register for an Online Class
1. Go to flvs.net and click Enroll. Click on County Virtual School. On the next screen, scroll down and click the Enroll button again.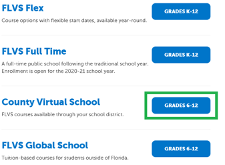 2. Follow the Prompts to Choose Your Class. Select your course, click Add to Backpack.  Add more courses or click Continue.
3. Login with Your Existing Account, or Create a New Account. Follow the simple prompts to create your first account for virtual school.  If you already have an account, you do not need to create a new one.  If you forgot your password for your old account, follow the prompts to recover your forgotten password.  You do not need to create a new account if you forgot your password.
4. Complete the Student and Parent Commitments
5. Choose Semesters and Preferred Placement Date. You may choose Semester 1, Semester 2, or All Semesters. Each semester represents a ½ credit.  Then choose a Preferred Placement Date, click Pasco eSchool,  then Confirm your course request.
6. Finalize your request and click Submit Enrollment
Remember, if you are off campus full time in Pasco eSchool, you must have 6 classes and be actively working in them!
Your school counselor will then review your course request(s) that you've chosen and if approved you'll be placed within 24 hours.