Welcome Back! We are so excited to start the 2020-2021 school year! We look forward to seeing our Mustangs on August 24th!
You can find information by clicking on the links for each item. As an FYI, previously communicated information such as MustangU Orientation, August 19th Orientation, the Learning Model Choices Webinars, and Confirming Your Classes and Learning Model during the Summer can all be found at the bottom of the page.
Textbook and Device Distribution: Do you need textbooks, workbooks, or devices for mySchool Online? We will be available in the Media Center on Wednesday, August 26th from 5PM to 6PM to pass out these items. Please come to the Media Center and form a socially distanced line. Please also make sure that you wear a mask!
The First Three Days of School!: We will be following an amended bell schedule on the First Three Days of School so that we can review policies and procedures, pass out schedules, and make sure that students get to classes. All students will report to RANCH first, even if you are on the mySchool Online learning schedule. If you have placeholders before you go to RANCH you will be allowed to sit in the cafeteria until your classes begin.
August 24th – Monday's Bell Schedule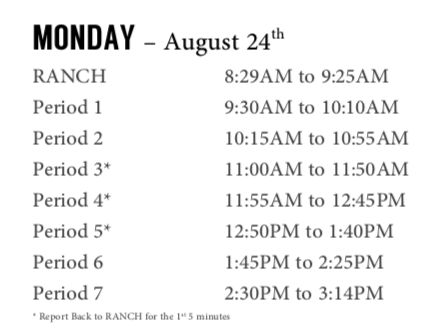 August 25th – Tuesday's Bell Schedule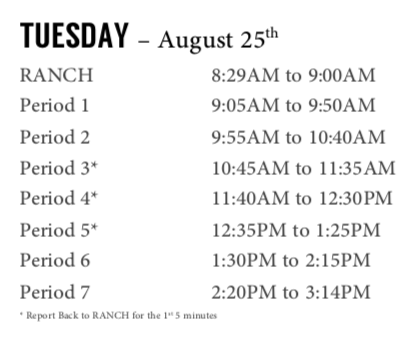 August 26th – Wednesday's Bell Schedule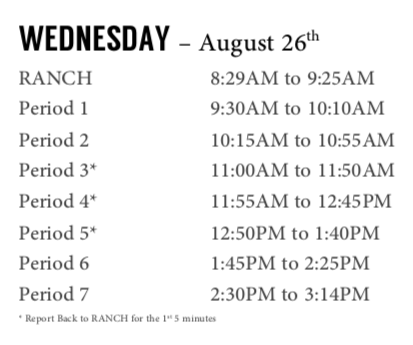 School Supplies: While not an exhaustive list, this school supply list provides a good starting point for our Mustangs to be prepared for school each day!
Faculty & Staff Contact Information: You can contact your teacher using email or their Google Voice number.
Student, Faculty, & Staff Safety: Please review our safety expectations here, including information on masks, social distancing, hand washing, and the daily screeners that we need each parent/guardian to conduct prior to sending their children to school.
Student Parking, Drop Off/PickUp & Bus Transportation: Please click on the link below to read all about transportation options!
Grade Level Pages: The links for these grade level pages can also be found on the front page of our school website. There is valuable information included on these pages and important links for guidance, the schedule change policy, community service, volunteering, FAQs, the Student Code of Conduct, attendance, clubs and organizations, the contact information for the Class's Assistant Principal, School Counselor, and Class Sponsors, and the Class Student Leadership, among other topics of interest to parents/guardians and students.
Previous Information Communicated This Summer: The links below contain information that was presented and sent out during the summer regarding reopening, choosing your return option, and confirming your classes. These are for information purposes only.
MustangU Virtual Orientation: August 13th – Read about how to sign up for the MustangU Virtual Orientation!
The information regarding student sessions and parent/guardian sessions is included.
Open House & Orientation Day: August 19th! This includes information on yearbooks, lockers, when to attend if you are a 9th grader or new Mustang, paying fees, and getting your schedule.
Mustang Reopening Summer Webinar
Form For Confirming Your Classes for the 2020-2021 School Year