If you are a member of the Class of 2020, your transcript requests are free.
To order a transcript, please follow these instructions: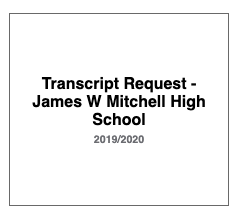 Complete the Mach Form and hit add to cart.
Click on the cart and it will say that there is not payment required because you are a member of the Senior Class and recently graduating.
Finally, click confirm items.
It will then give you a receipt/confirmation.