Here are the highlights from the Weekly School Messenger Call for the Week of September 8th.
Are you a 10th or 11th grader? Are you interested in Youth Leadership Pasco? See Ms. Schultz for the application! The applications are due TOMORROW, September 9th! #LeadershipAwaits #OpportunityAwaits #ExcellenceAwaits
Score reports are available to students who took an FSA or EOC last year. Please visit our website and click on the link in the slider to request your child's scores.
This Tuesday is College Colors Day! Wear you College Colors as we prepare for the PHSC College Night that will be held this Tuesday, September 10that PHSC beginning at 6PM. This is a great opportunity to meet with representatives from colleges and technical schools throughout the State of Florida, as well as the military.
We also want to remind you of our first Early Release Day on Wednesday, September 11th. Students will get out of school at 12:56PM on this day. We will hold classes for all periods on this day, so please make sure that you are in attendance.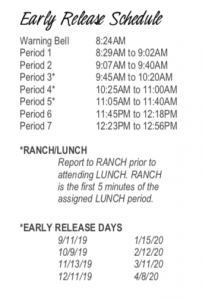 Progress Reports will be available online on Friday, September 13th. Keep working hard and mastering the standards.
Senior College Application Help Night will be held on September 17that 7PM in the Media Center. This event is for Seniors in the Class of 2020 and we help with the college application process.
Best wishes to all of our sports teams this week as well as the NJROTC cadets participating in the Brain Brawl and the Band students auditioning for All-State Band!
Please remember to THINK before you POST and remember that what has been posted cannot be unposted. Also, just be nice. It really is that simple.
Thank you for listening and go Mustangs!