Quick Start Guide
Textbook and Device Distribution: Do you need textbooks, workbooks, or devices for mySchool Online? We will be available in the Media Center on Wednesday, August 26th from 5PM to 6PM to pass out these items. Please come to the Media Center and form a socially distanced line. Please also make sure that you wear a mask!
The First Three Days of School
During the first three days of school we will hold RANCH first as we go through procedures and expectations. You have a RANCH Canvas Course that you will use for this part of your school day.
Bell Schedules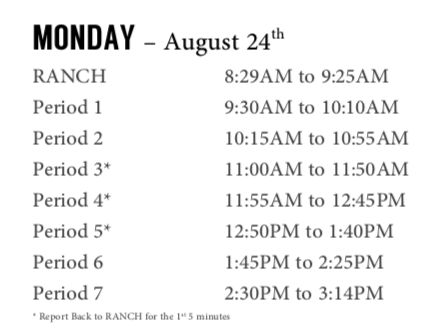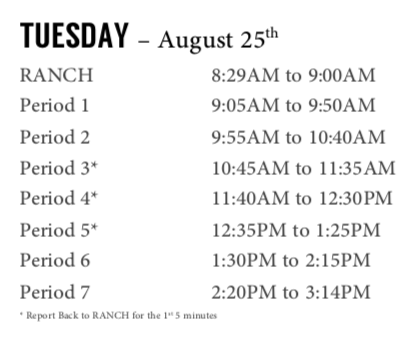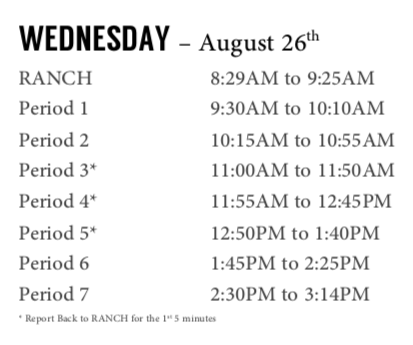 Regular Bell Schedule
Be at your computer by 8:24AM each morning to start your school day.

Log in to myPascoConnect at https://launchpad.classlink.com/dsbpc and launch Microsoft Office 365.

Click the icon for myLearning to view the courses on your dashboard.

Find your first period class and click to open the course. (You'll do this each period of your mySchool Online day.)

Find the class Zoom link and join the class lesson. The link may be in the syllabus or announcements.

Make sure to know your teachers' expectations and how to do your best in your mySchool Online classes!

Regular Bell Schedule

Tips for Students 

Sign in on-time to every class, every day with your assignments ready.
Be respectful to all while you are online and use your best communication skills.
Do your very best work.
Ask questions.
Dig deep and make connections.
Track your progress
Keep a calendar and planner of assignments and due dates.

Tips for Parents/Guardians

Set up a table and chair with good lighting for your child.
Make sure that you child is ready to learn by 8:24AM each day.
Set up your parent accounts on myStudent and my Learning to monitor your child's progress.
Know your child's teachers and communicate with them regularly.