Here are the highlights from the weekly School Messenger for the Week of May 19th.
Our Art Club is having an Animal Supplies drive. Please bring any donations to Mrs. Fulton's room.
Our Underclassmen Night of Excellence is this Wednesday, May 22ndat 6PM in the cafeteria. Those students who are being recognized received invitations to this event.
Our Senior Night of Excellence is this Tuesday, May 21stat 6:30PM in the gym. Those students who are being recognized received invitations to this event.
SENIORS: Please begin to look around your house for anything that belongs to JWMHS, including library books, uniforms, and textbooks. Remember, Senior Fees are $100 and all debts are due at the end of May.
Seniors who are eligible for Bright Futures must submit an application online and provide documentation of community service hours to Ms. Ruconich by May 24, 2019.
This Friday is Senior Breakfast for students in the Class of 2019. It will be held at 9AM on Friday, May 24that Spartan Manor. Students will be required to dress in business casual attire. This would include dress pants, dress shirt with tie, a dress or skirt and blouse, socks and dress shoes, specifically closed shoes. Jeans, shorts, shirts without a collar, sneakers or tennis shoes, and flip-flops will not be permitted and students will be sent home to change if they come to the event dressed in this manner.
Graduation Practice and Senior Checkout will be held in the gymnasium on Tuesday, May 28thand Wednesday, May 29thfor all seniors whether you are graduating or not beginning at 8:30AM. You will need to be present at both practices in order to be eligible to walk. Student Debt is due at this time and caps and gowns are given on the second day.
We will not be able to administer exams early. Please review our calendar prior to scheduling summer activities. You will have to be here during exam week and take your exams on the scheduled days
.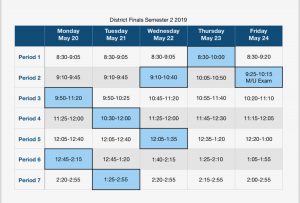 District Finals are 10% of your Semester 2 grade. If your class had a State EOC, Biology, US History, Geometry, and Algebra, it will count 30% of your year-long grade. If your class does not have a District Final or EOC, it should have a teacher exam and that should be explained in the individual syllabus.
If you have not taken an EOC or the FSA, please make sure that you see Mrs. Fillmore in the Media Center to make it up.
Beginning this week, students will not be allowed to have backpacks or large bags. Students may carry clear bags or drawstring bags and purses.
We want to remind students that you need to be on your best behavior over the next week and a half.
Pranks can become serious issues, resulting in criminal charges and recommendation for expulsion.  These situations also impact participation in graduation.  It is important to continue with positive behavior through the end of the year and to celebrate upcoming graduation in appropriate ceremonies. We want all students to be successful and celebrating at end of the year events and graduation, please help support us with this focus.
Please think before you post on social media. We cannot stress this enough! These posts last forever and you will have to be accountable for them in the future.
We also want to remind students and parents that leaving campus without permission, being out of area, and skipping class are all level 2 offenses and cause great concern for us in terms of student safety.
As a reminder, food deliveries are not allowed. Please make sure that you are parking in your assigned spot and do not park on campus if you do not have a tag. You should also not be parking in the medical plaza or old Sweetbay plaza south of campus.
If you need to meet with a school counselor or the career specialist, there is a link for them to know that you would like an appointment.
Finally, if you see something, say something by using our See Something, Say Something link. We follow-up on all things reported to us from this link.
Best wishes to all of our students taking final exams this week! Do your best! You are ready!