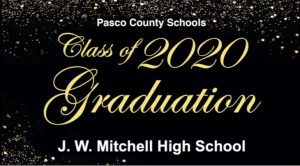 We have been informed that the Yuengling Center at USF is not able to hold our graduation in August as planned. We immediately created an alternative plan because we recognize the importance of celebrating our 2020 graduates. We have rescheduled your graduation to July 24th at 7:30PM at the @JWMHS Stadium with each graduate accompanied by two guests.
Please read the guidelines for the graduation ceremony here: JWMHS Graduation Guidelines
We are determined to make this celebration special and to give you the opportunity to graduate surrounded by classmates and family, and to walk across the stage.
Facebook Live Feed: Click Here to Watch the Commencement Ceremony of Facebook Live!
The information below is current as of Monday, June 29th. We will be updating this page as we get more information. Please check back periodically before the ceremony.
Here is the link where you can watch the Commencement Ceremony from June 6th and download pictures:
Commencement Ceremony Expectations
1. Each graduate is allowed to be accompanied by only two (2) guests.
2. The graduate and guests will be seated on the field.
3. Masks must be worn at all times.
4. Graduates and guests are expected to observe all social distancing guidelines.
5. Masks must be school-appropriate (follow dress code and code of conduct guidelines).
6. Graduate caps CANNOT be decorated.
7. Graduates and guests will follow parking, entry, and exit guidelines.
8. The RSVP (see  below) must be completed by or before Monday, July 13th to indicate participation.
RSVP
Please RSVP to let us know if you will be in attendance. Click on the link below to do so: RSVP for the July 24th Class of 2020 Commencement Ceremony
Tickets & Guests
This is not a ticketed event; however, only two guests will be allowed to attend with the graduate.
Seating Arrangement
Here are examples of how graduates and their two guests will be seated. There will be at least six (6) feet in between each graduate/guest family group. Even though these pictures do not show it, please know that you must wear masks during this event.
Questions?
Please email Mrs. McPherson (kmcphers@pasco.k12.fl.us) or Ms. Schultz (jschultz@pasco.k12.fl.us) with any questions.