Here are the highlights from the Weekly School Messenger call for the Week of May 17th!
There are just under 2 weeks left, so finish #MustangSTRONG!
Seniors! You will need to have your Distance Learning classes finished by May 22nd! Keep working hard! Seniors, please also make sure that you have logged in and paid your Senior Fees of $100.
Best wishes to all of our students who will be taking AP Exams! Strive for excellence and a 5 and have integrity while you take your exams! You've got this and you are ready!
Even though we didn't have Prom this year, we had ordered t-shirts & tickets! If you would like to purchase a 2020 Prom T-Shirt & ticket for $10 as a souvenir go online in myStudent. We will distribute them with yearbooks at the end of May.
Student Council Elections for next year are coming up! 9th, 10th, and 11th grade elections will be on May 18th & 19th through the class myLearning/CANVAS course.
We will have our Underclassmen Night of Excellence Virtually on May 27th at 6:30PM and our Senior Night of Excellence and Scholarship Night on May 28th at 6:30PM. They will be posted on our Facebook Page. Those students who will be recognized will be receiving invitations soon via email.
Our Virtual Graduation Ceremony will be broadcast on June 6th at 6PM on the Pasco County Facebook Page. The In-Person Graduation Ceremony will be held at USF on August 15th at 6PM. We look forward to celebrating the Class of 2020!
Administrators are cleaning out lockers and putting the contents in bags for each student with a locker. We will be collecting computers, textbooks, media center books, uniforms, and other JWMHS items and distributing yearbooks and locker contents, as well as caps and gowns soon! On May 22nd we will distribute to and collect from Seniors.  On May 26th we will distribute to and collect from Juniors, on May 27th to Sophomores, and May 28th to Freshman. We will be posting the schedule on what part of the alphabet comes when so that we can make this as smooth as possible. Please go to our website to see when you come to campus. When you come to campus, please have all of your items in a bag with your name on it. We will be reviewing our debt list in the next week and if we see that we are missing anything, we will contact you.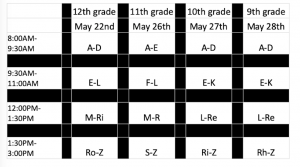 Do you have Dual Enrollment books that need to be returned? Check out the information here: Dual Enrollment Textbook Return Information.
We hope that you stay safe and stay home so that we can protect the health of our community and those we love. Wash your hands! Make good choices! Stay home! There are less than two weeks left, so finish #MustangSTRONG! We love you and miss you! Thank you for listening, and go Mustangs!