Here are the highlights from the School Messenger call about the RRHS Football Game Policy & Procedures. I wanted to remind you of a few things as we get ready for the big game against the Knights tomorrow night at River Ridge High School.
This will be a highly attended game. Please be patient as you are driving to the game and trying to park because there will be a lot of people coming.
Please remember that River Ridge High School will be enforcing the Safety and Security policies of the School Board of Pasco County. This means that you will only be allowed to bring clear bags or small clutch-type bags. All bags are subject to search. Please go to the JWMHS website for more information on what is and is not allowed. You can also click here to read them:
River Ridge High School is not allowing flags or signs to come into the stadium either. Please leave all of those items at home or in your car.
I also want to remind you that #MustangsRiseAbove and that each of you should be on your best behavior and not use alcohol or drugs as you show your #MustangPRIDE.
As a reminder, we are on a Pep Rally Bell Schedule tomorrow and hope that you all wear BLACK for the Pep Rally!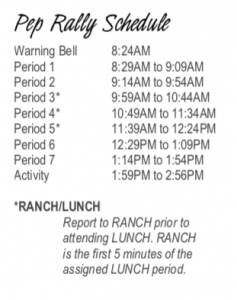 This should be a great game! Please be safe and think before you act! Let's Go Mustangs!